Activists Fighting To Make Monkeypox Treatment Readily Available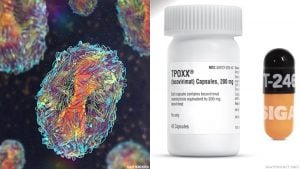 Cases of monkeypox are on the rise in the U.S. and people who have been infected are saying they cannot access effective treatment.
There have been over 21,000 confirmed monkeypox cases in the world and this includes over 4,900 in the U.S. For decades, this virus has been infecting people in the west and central Africa but started circulating abroad recently. In most cases, the virus infection is primarily spreading among men who have sex with other men. Monkeypox spreads through close skin contact including when engaging in sexual activities. Once infected, the virus causes blister-like lesions that are painful and often appear on the genitals and anus. The infected person might develop flulike symptoms in some cases. According to the World Health Organization, there have been at least 5 deaths from monkeypox.
There is an antiviral drug that has already been approved by the FDA for the treatment of smallpox and it has been found to be an effective monkeypox treatment which is related to smallpox. Tecovirimat, also known as TPOXX is only supplied by the Strategic National Stockpile in the US and the CDC requires an investigational new drug (IND) application from healthcare givers to give access. There are critics that have pointed out that the TPOXX IND application process is not easy even though the drug has been tested and found to be an effective monkeypox treatment.
James Krellenstein, a gay rights activist has said, "The TPOXX issues, from a scientific perspective, make zero sense. TPOXX was approved on animal data [for monkeypox], you can't prescribe [the] drug … for monkeypox because the FDA label says, 'Only smallpox"
In a letter, which was dated June 15 and shared with Scientific American, Krellenstein argued that "The IND process was overly burdensome on health care providers, who, it claimed, had to review a more than 100-page protocol in order to get access to the drug and collect extensive information about each patient receiving it, as well as photographs of lesions and other data."
Krellentein and his colleagues are fighting for two solutions aimed at making sure that TPOXX is more available to people with monkeypox. In one of the solutions, they recommend that the CDC withdraws the burdensome process of the IND application. In another solution, they recommend that the FDA makes TPOXX available through a EUA or emergency use authorization which is a process that allows an unapproved medical product in the diagnosis, treatment, or prevention of a serious disease.
Krellenstein says that HHS Secretary Xavier Becerra needs to do his job on the monkeypox issue. "The buck has to stop with him," Krellenstein says. "He needs to do his job now and figure out how to solve this problem. It's not up to us anymore to do his job. This [letter] is addressed to Secretary Becerra for a reason, and Secretary Becerra needs to do this."
Becerra talked to reporters and said, "We continue to monitor the response throughout the country on monkeypox," he said. "We've made vaccines, tests, and treatments—well beyond the numbers that are currently needed—available to all jurisdictions who manage their public health systems and are willing to work with clinicians to make all three—tests, treatments, and vaccines—available. And we will weigh any decision on declaring a public health emergency based on the response we're seeing throughout the country."
Becerra also said that the US government has already secured additional 786,000 doses of the JYNNEOS vaccine for monkeypox which add to the more than 330,000 already distributed to jurisdictions around the country. He also added that there had not been a declaration of a public health emergency and if there will be, the relevant departments will make it known to the public.
Some experts are just concerned that the handling of the virus by the government is not as it should and they'd hate to say that it is too late and that they failed to stop it from becoming an endemic worldwide.
Positive Singles